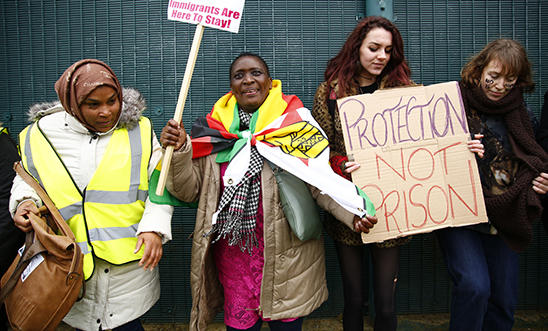 Immigration detention is used to detain people whilst the Home Office makes a decision about their immigration status.
Stafford MP, Jeremy Lefroy, has promised to use the opportunity of the debates, later this year, on the Immigration Bill to ask the Government to set a universally-applicable time-limit of no more than 28 days on the detention and to introduce it
without delay. His case will be strengthened if he has support from his constituents. We are asking supporters to sign these to give Mr. Lefroy the best possible evidence of support for this amendment. Please sign before May 15th which is when the Amnesty petition will close,
John will also be collecting signatures manually for a while longer so, if this is more suitable for you, please contact sutcliffejr@ntlworld.com . It would also help him get a feel for how the petition is going if you could let him know if you sign.
Althou
gh it is not prison it has many features of imprisonment: no freedom to go outside the centre, limited contact with family and friends, monitored by security staff. International standards require that immigration detention should only be used as a last resort yet th
e UK has one of the largest detention networks in Europe, with 27,000 people detained, for varying periods, in 2016-17. Many of these people are extremely vulnerable, including survivors of torture and sexual violence, and people with serious medical problems; detention can have a terrible impact on their mental health problems.
Although most will only be detained for a few days or weeks, many will be held for months or even years because there is no time-limit on how long someone can be detained and thus they have no idea when they will leave. No other European nation has a policy allowing indefinite detention.
You can sign the petition here